Reading through my e-mails I received a notably interesting one announcing:
Dear Customer,

AmazonSupply.com is a new website dedicated to offering a broad selection of parts and supplies to business, industrial, scientific, and commercial customers at competitive prices. AmazonSupply offers more than 500,000 items from leading brands including Mitutoyo, Georgia-Pacific, Brady Corporation, Sandvik, Genie, and Parker. Eligible orders of $50 or more receive free two-day shipping, and AmazonSupply offers free 365-day returns, corporate lines of credit, and a dedicated customer service center. The site's easy navigation, detailed product descriptions, and studio-quality photography help customers find the items they need.
What does this mean for the business community.  Low Prices, Fast and Free Shipping…. An Easy One Stop Shop.
Also for the launch Amazon is providing a free 365 return on corporate lines of credit for Amazon Supply Customers with a dedicated customer service center.
With 14 categories that include:
Hydraulics, Pneumatics, and Plumbing
Materials
Lab and Scientific
Occupational Health and Safety
Fasteners
Power and Hand Tools
Janitorial and Sanitation
Power Transmission
Test, Measure, and Inspect
Cutting Tools
Abrasives and Finishing
Material Handling
Office
Fleet and Vehicle Maintenance
I will never have to shop at staples.com, uline.com and the many other vendors I use for all our needs.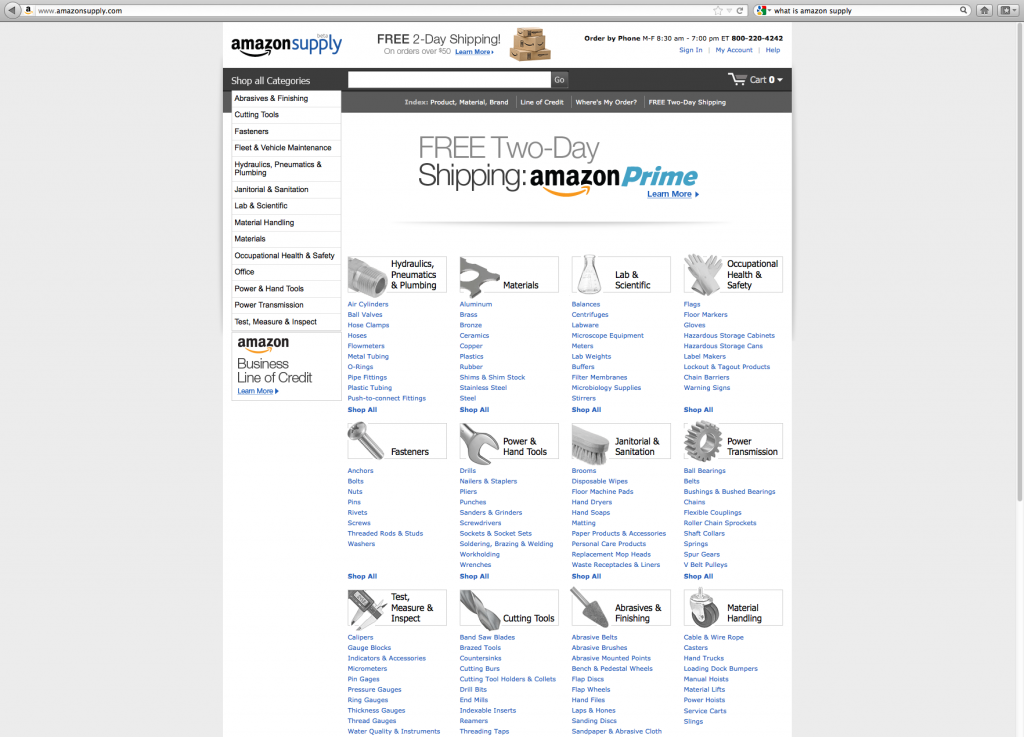 I will be sure to recommend this site to all my industry clients – you name it they can use it.  Plumbers, Merchanic Shops, Labs, etc.